What is 2-Step Authentication?

2-Step Authentication is more security for your account. When signing in on a new device (or browser), you will be emailed a special code to enter to validate that device. You must maintain a valid email to sign in on different devices. This protects your account from others who may know your email and password!

There are two modes you can set your security level:
Normal mode will prompt for authentication when you try to sign in on a new device (browser). It should remember that afterwards, so if you sign in again, you will not be prompted for a code.
Strict mode will require authentication every time you are prompted for a Username and Password to Sign In, even if you just signed out of a valid device.

How do I turn on 2-Step Authentication?

You will find the settings for this under your Account -> Settings.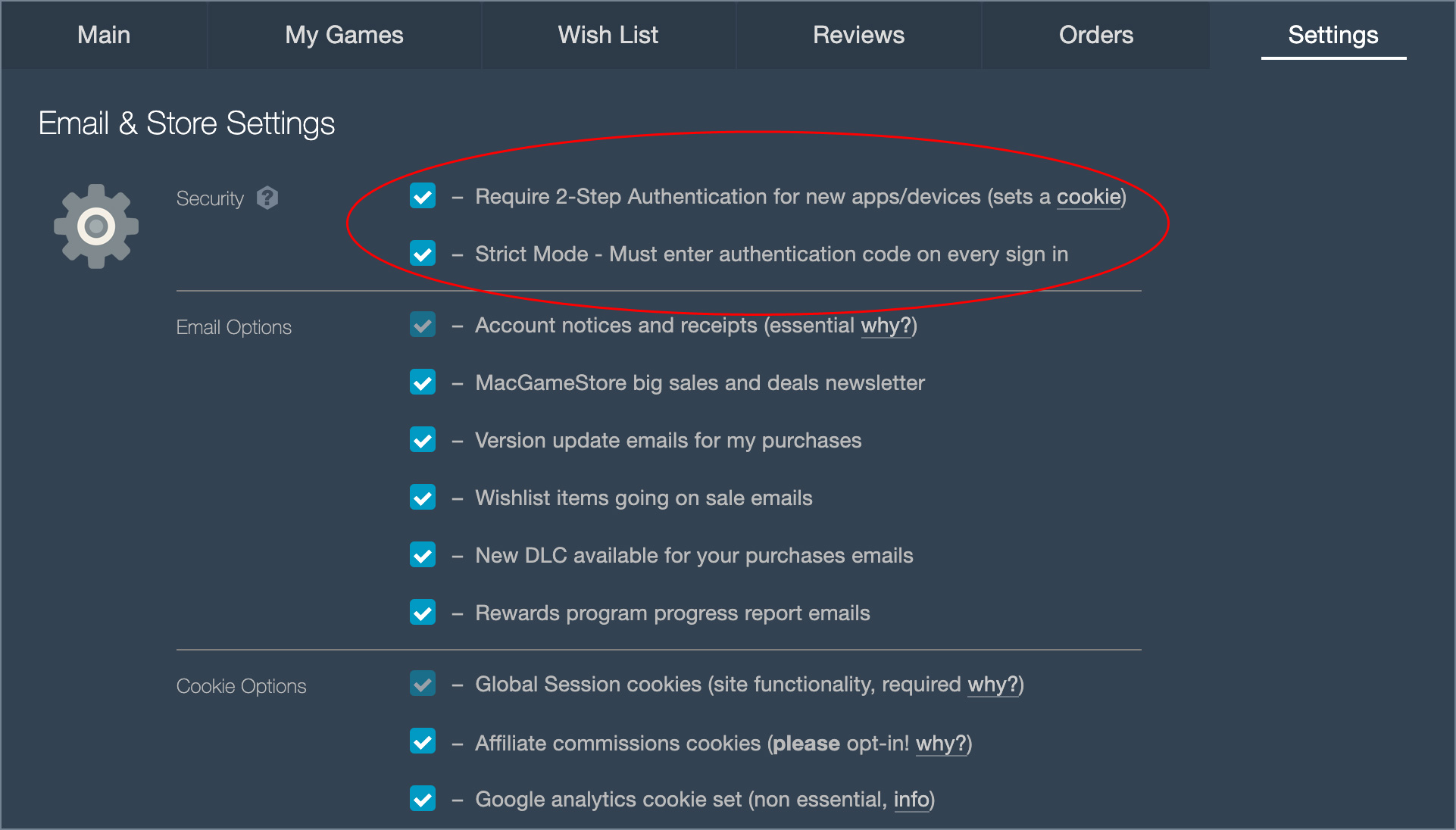 How do I Sign In with 2-Step Authentication?

When you provide your valid Username and Password in the Sign In form, you will then be prompted for a special time-sensitive code that was just emailed to you. The email will contain this in the subject: "Sign In Authentication Code".

Opening the email will display in large blue letters/numbers the special code you must enter in the field presented on the Sign in page prompt: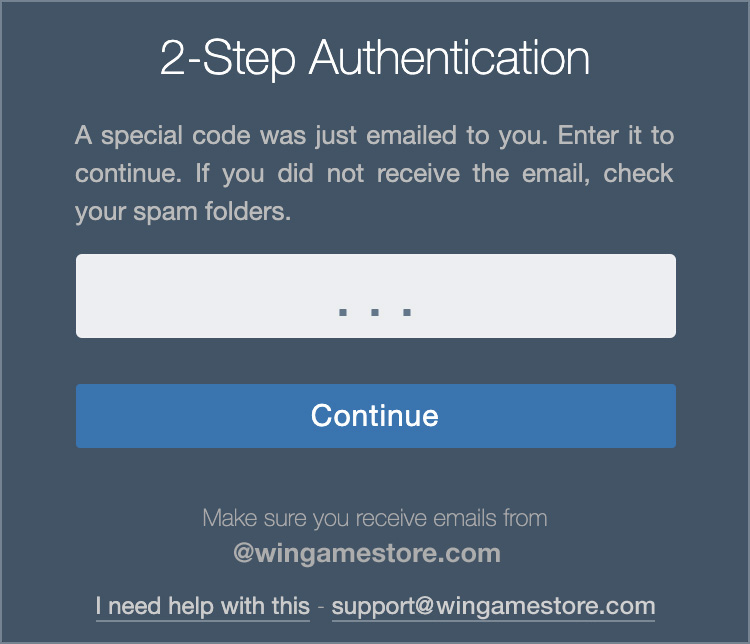 When you do, you will then be successfully signed into your account on that web browser/device. If you Sign Out, you may or may not have to enter the code again when you Sign In again (depends on your security settings of Normal or Strict modes).

What if I don't get the email?

If you are not receiving the email with the special authentication code, check your spam folders, and email provider settings to accept emails from @wingamestore.com. The email will also contain in the subject: "Sign In Authentication Code", so you can filter to allow those emails through.

What if I get a code email when I didn't request it?

This means someone else is trying to sign into your account using your Username and Password. They have not been able to enter your account, because they would need that code to proceed. So your account is still safe for now.

If you receive an email with a code, inspect the information in the email, as it will tell you what device was used, and the Internet IP it came from. If you do not recognize any of the provided information, you may want to change your password immediately.

This is a common issue if you use the same Username and Password as you have used somewhere else that is less secure. Hackers try these 'combos' they steal from insecure websites. It is always in your best interest to never use the same Username and Password across multiple websites and services around the world.

It is requesting a code when I sign in, and I don't recall enabling this?

Accounts that are extremely old, or have had suspicious sign in activity, get toggled on to protect the account. You may be asked to enter a code the first time you sign in on these occasions. You can disable it in your settings after sign in, however it is not advised, as you will be reducing the security on your account.